AbolishTheDEA.com
May 6, 2020
America's Invisible Addiction Crisis
And what it tells us about drug war hypocrisy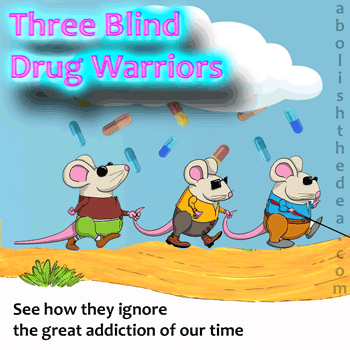 I've been hooked now for three decades on a drug that I hate, an expensive drug that I must take every single morning of my life even though it stifles my creativity and flattens my so-called emotional "affect." And I have been hooked good. The NIH itself has determined that the drug I'm on has a 95% recidivism rate after three years for those who attempt to "kick it." Meanwhile prominent psychiatrists report that the drug in question is harder to quit than heroin. In fact, the guy who's currently giving me the pills told me frankly that I might as well not even bother to quit the drug since it has such lousy relapse rates.

Speaking of the guy who gives me the pills, you'd think he'd be at least a little embarrassed, tell me that he's sorry about my addiction, but nothing could be further from the truth. He has never once suggested that he feels any blame whatsoever for my fate. Meanwhile this guy is prospering financially and is a veritable pillar of the community. Nor do the police have the slightest interest in disrupting his activities, even though he's still hooking new clients on the same addictive substances to this very day. You see, he belongs to a huge organization whose job is to convince the world that this pill-pushing arrangement of his is actually a good thing, and that the folks who are not yet on the pill mill could very well be missing out on living a full life.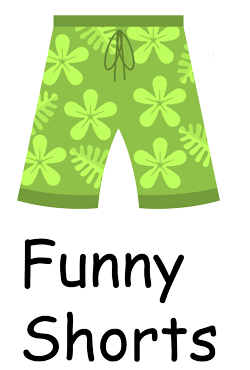 Nor am I alone in my addiction. As I type this, 1 in 8 American males and 1 in 4 females are addicted to the same sort of expensive pills that I'm forced to take every day of my life.

I know what you're thinking: the drug warriors must be "up in arms" about this scandalous situation. The DEA must be declaring a national emergency. Donald Trump must be drawing up long lists of pushers (like my own staunchly unapologetic supplier) whom he's going to execute the very moment that Congress gives him the green light to do so.

Unfortunately not. For the drug that I'm addicted to is Effexor, a Big Pharma blockbuster pill, and we all know that Big Pharma pills are exempt from drug warrior criticism. The Drug Warriors couldn't care less, even though the sorts of drugs that we're talking about here are precisely the ones that can really "fry your brain" in the way that the otherwise bogus drug war propaganda suggests.

The result: not only is the drug warrior blind to my own personal addiction, but they are blind to the great mass-addiction of our time. And so they go on demonizing the poppy and the coca leaf and psychedelics, plants that have been used responsibly by other cultures for millennia, blissfully unaware that these plants, even when legal, never caused anything close to the wholesale addiction that has been perpetrated on Americans in modern times by Big Pharma and their psychiatric handmaidens.

How much more proof do reasonable people need that our attitude toward "drugs" (by which we Americans really mean "psychoactive plants") is a social construct, as malleable as clay, and that what passes for drug policy today is really just a hodgepodge of laws and attitudes designed to maintain the economic interests of the status quo and the institutions that represent it (including but not limited to: Big Pharma, Big Liquor, psychiatry, the corrections industry, and law enforcement)?

Of course, if addiction doesn't really matter to drug warriors, as the status quo would suggest, then the question asks itself: why am I not allowed to choose my own "poison" from among the flora that God freely gave us all in the Book of Genesis? After all, the plants that we have since outlawed from thence are far less addictive than the SSRIs that have fogged my mind and turned me into an eternal patient for the last 30 years.

Why not? Because empowering patients like myself in this way would leave stakeholders such as Big Pharma and the healthcare industry out of the economic loop. Why would I want to pay for their expensive and highly addictive pills, pills that dull my emotions and bring me no pleasant dreams, when there are plant medicines growing at my feet that are far less addictive and can actually bring me psychological insight?

Thus I am destined to die as an unacknowledged addict, taking my expensive pills every morning of my life until the end, never to hear so much as one compassionating sigh from the socially respectable pushers who addicted me.





Believe it or not, there are no addiction experts out there today. Why? Because almost all the godsend medicines that could treat addicts have been outlawed by the DEA. No surprise there. We'd have no aviation experts if the US government only allowed Americans to fly gliders. Ayahuasca, ibogaine, psilocybin, peyote, mescaline, specially processed ergot -- yes, even cocaine and opium could play a role in an addict's recovery were these substances to be employed advisedly by a pharmacologically savvy shaman. But American Drug warriors don't want to hear it. They have this superstition that says that any psychoactive substance is horrible once it's been demonized by politicians... and that is not science, but religion: specifically Christian Science religion.

For more on America's idiotic drug war and its role in aggravating addiction and complicating addiction recovery, check out the following broadsides against America's shameful drug war:

Replacing Psychiatry with Pharmacologically Savvy Shamanism In the Realm of Hungry Drug Warriors America's Invisible Addiction Crisis Addicted to Ignorance Time to Replace Psychiatrists with Shamans







Bone up on slam-dunk arguments against the drug war, starting with the fact that it was a violation of natural law to outlaw plant medicine in the first place. Check out
the site menu
for fun ways to learn more about the manifold injustice of the status quo, including many knock-down arguments never made before. Why? Because even the majority of drug-war opponents have been bamboozled by one or more of the absurd assumptions upon which that war is premised. See through the haze. Read on. Listen on. And Learn how tryants and worrywarts have despoiled American freedom, thereby killing millions around the world, totally unnecessarily, ever since the fateful day in 1914 when ignorant America first criminalized a mere plant -- and insisted that the rest of the world follow suit or else -- an act of colonialist folly unrivaled since the day of the genocidal Conquistadors.