AbolishTheDEA.com
July 20, 2020
Five Ways that the drug war causes the problems that it claims to solve
by Ballard Quass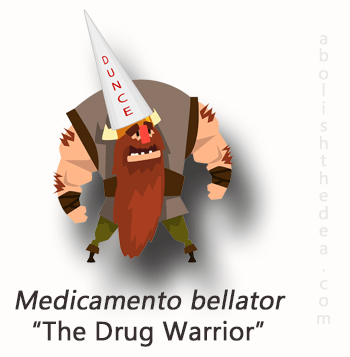 The Drug War creates an enormous interest in "drugs" (aka Mother Nature's psychoactive plant medicines) by constantly harping on them as the root of all evil, in a way that no other society has ever done since the beginning of time.



The Drug War creates drug cartels in the same way that liquor prohibition created the mob.



The Drug War outlaws thousands of godsend psychoactive plant medicines that are far less addictive than Big Pharma meds, while incentivizing unscrupulous black marketeers to sell the most addictive synthetic substances possible.



The Drug War creates violence: including the Mexican Drug War that killed 85 Mexican civilians per day in 2018.



The Drug War guarantees impurity of drug supplies, and not just because unscrupulous dealers "cut" their product with toxic substances either: the DEA itself deliberately poisoned marijuana crops in the 1980s by spraying them with paraquat, a weed killer that has since been shown to cause Parkinson's Disease.



Conclusion: "drugs" are the modern boogeyman and scapegoat: it is what we talk about when we want to demonize bad behavior without having to discuss the social problems that created it, such as lack of education, not simply about drugs but about common sense and personal responsibility. It is also what we talk about when we want to remove a population from the voting rolls by tossing them in jail and removing their voting rights. The drug war is thus simply a political ploy which helps the hypocritical beer-swilling drug warrior steal elections in order to keep the mendacious and anti-scientific drug war mentality in full force. Why? In order to benefit the special interests who profit from it: including Big Pharma, the American Psychiatric Association, Big Liquor, Law Enforcement, and the Corrections Industry.