AbolishTheDEA.com
May 27, 2020
In Praise of Doctor Feelgood
by Ballard Quass
Why psychiatry must become pharmacologically informed shamanism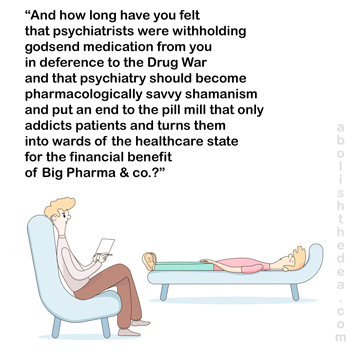 What follows is a short sketch showing how truly effective psychiatric treatment could take place once Americans have jettisoned the ignorant mindset of the Drug Warrior.

Okay, everyone take a seat. Glad to see you guys. Now, let me describe how we're going to help you with your alcohol withdrawal. You see, a hundred years ago, back in 2020, psychiatry finally began to realize that the hardest thing about withdrawal is the bad feelings. I know what you're thinking: why did it take them so long to realize it? Well, they had realized this before, but their superstitions about treatment made it impossible for them to see the obvious answer to this. If someone's feeling horrible, you make them feel good. Am I right, or am I right?

Well, a hundred years ago, the Protestant Ethic almost demanded that alcohol withdrawal be difficult, such that the Drug Warrior actually felt that it was wrong to make a patient feel good. You could talk to your patient until the cows came home in a half-baked effort to cheer them up and give them courage, but if you proposed using a godsend plant medicine from Mother Nature to help them feel good, you were considered a quack or, worse yet, a "Doctor Feelgood," which was the "put-down" par excellence of the Drug Warriors back then. They never stopped to consider the crucial question: "What is actually wrong with being a Doctor Feelgood?"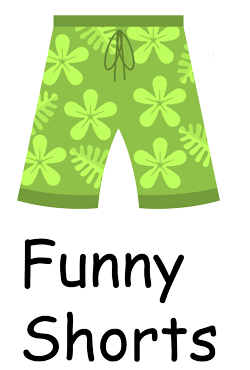 You might say that it would have been wrong because such a doctor would addict their patients, but that's no argument. First of all, the default psychiatric treatments back in 2020 were as addictive as they could possibly be. Many of them were harder to quit than heroin. Doctors actually told veteran patients not to bother trying to kick SNRIs like Effexor, since the NIH had demonstrated that they had a 95% recidivism rate. Secondly, a Doctor Feelgood can so vary his ministrations to his patients as to ensure that they never become addicted to any one specific substance. So even if we grant that addiction is wrong, a substance-savvy doctor need never addict his patients to anything. Of course, this is all assuming that there is no Drug War in place that will severely limit (at least as a practical matter) the pharmacopoeia to which this Doctor Feelgood of ours has access.

Fortunately, America has grown up over the last one hundred years and we now see that it's absurd and ungrateful to criminalize Mother Nature's plants and fungi (not to mention the fact that it's a violation of the natural law upon which America was founded, as everyone has a right to what John Locke called "the earth and all that lies therein"). As a result, I as your humble doctor now have access to every psychoactive plant and fungi in the world. That means that I can now use this immense and varied pharmacopoeia strategically and with a view to keeping you strong in your renunciation of alcohol - while also providing you with plant-assisted insight into your relations with your fellow human being and the planet at large.

This program of weekly "altered states," if you will, will have two benefits for you: First the benefit of the insight and calm provided by each substance when it is used under the reverent and safe conditions that I will be putting into effect, with the help of my deep knowledge of the plants in question and the subtleties of their historically identified use.

But there is an important second benefit of the program, a kind of benefit that the psychiatry of the 2020s never even bothered to acknowledge: that is the value of the anticipation that these weekend sessions will generate. The reason for recidivism is not just that the withdrawal subject is feeling poorly, but rather that he or she is feeling poorly AND has no sense that these bad feelings will ever cease. That is the real hell of withdrawal, not the bad feelings themselves, but the lack of any believable prospect that things will ever get better.

You, however, will have the godsend blessing called anticipation, anticipation of an upcoming transcendent state. You will have the knowledge that you need only hold out until the weekend, at which point you will be allowed to escape from yourself. Not only that, but this escape will often help you find valuable insights about yourself and the world, which will, in turn, help you better cope with the problems that you encounter on the weekdays during the withdrawal process.

For you see, we're not going to meet here on the weekend "to get high," as the Drug Warrior would love to call it. We are going to meet here to transcend ourselves and see higher truth and relax... in such a way that we become open to self-criticism and insight about our place in the world. People who are feeling horrible have fogged minds and can get no insight. But we are not Protestant Drug Warriors who insist on you feeling poorly. We want to help you transcend your own limits for a few hours each week, and in a guided fashion that will conduce to greater understanding on your part about where you are at in the world - and where you need to go from here.

There you have it, the kind of therapy that would suggest itself to thoughtful doctors immediately, were they not living under the spell of the Drug War, which urges us to self-censor our therapeutic hopes at every turn, dismissing all options that attempt to leverage the incredible latent power of Mother Nature's entheogenic plant medicines - for we "know" that drugs (i.e. plant medicines) are somehow bad while Big Pharma "medicines" are officially good. Only when we renounce that Drug Warrior dogma (and the anti-patient drug laws that it claims to justify) can we let psychotherapy become the pharmacologically savvy shamanism that it needs to become if we are to place the interests of the patient above those of the money-driven status quo.



In Post-Drug War America, the psychiatric pill mill will be replaced by empathic shamanism, where pharmacologically savvy teacher-therapists will use any plants in the world that they see fit in order to help their client achieve self-actualization in life.