AbolishTheDEA.com
April 21, 2019
The Drug War and Electroshock Therapy
by Ballard Quass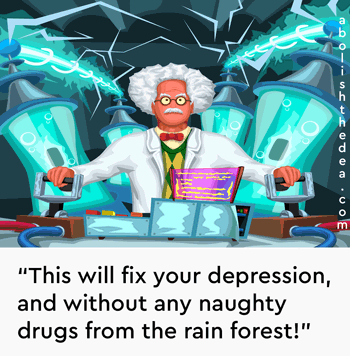 What follows is a letter to the editors of medicalexpress.com, regarding the matter-of-fact allusion to ECT in the third paragraph of a story entitled No laughing matter - nitrous oxide helps to unravel rapid antidepressant mechanisms, published March 27, 2019:

I'm always startled by the non-critical allusion to ECT in stories that discuss controversial psychoactive drugs like Ketamine, as if administering so-called "shock therapy" for depression was no more problematic, morally speaking, than prescribing aspirin for a headache. I beg to differ for the following reason.

I think it's bizarre that doctors can bring themselves to knowingly injure the brain through ECT while failing to have explored the value of drugs like psilocybin, LSD, and ketamine, all of which have the potential of relieving long-standing depression without inflicting lasting damage to the brain. I would have no problem with ECT as a last resort, but the fact is it is not being used as a last resort for the severely depressed; instead, it is being administered by doctors who have never sufficiently advocated for the above-mentioned alternatives that would fulfill the Hippocratic oath of "first do no harm." Doctors may not be able to single—handedly change drug laws, of course, but they still have a moral obligation to speak up when drug-law restrictions oblige them to use a dangerous treatment for which safer alternatives are available.

Yes, patients may seem "happier" after ECT, but it is a sad success indeed, coming as it does thanks to a loss of brain function.

If, in the supposedly enlightened 21st century, we still are forced to use a harmful treatment such as ECT thanks to drug law, then the medical community owes it to society to publicize that fact loudly and clearly each time it throws the switch to shock a patient, saying: "American drug law is forcing us to take this potentially harmful step; American drug law is forcing us to put this patient at this unnecessary risk of having his or her brain damaged by ECT."

Instead, the medical community remains largely silent, claiming that ECT is defensible on its own terms, when in reality it's a dangerous expedient that is only rendered necessary thanks to the fact that drug law in the U.S. has senselessly outlawed all the promising psychoactive alternatives.

AFTERTHOUGHTS about America's Pathological and Childish War on Mother Nature's Plant Medicines: Nothing demonstrates Americans' pathological fear of Mother Nature's plants more than their willingness to inflict brain injury on patients rather than resort to the therapeutic use of such godsend natural medicines. There are even Drug Warrior regions where they'd prefer that patients DIE rather than use natural medicines -- places where a doctor can legally kill you (via euthanasia) and yet that same doctor would be arrested if he or she tried to make you want to live by giving you natural plant medicines, such as psychedelics. America's attitude is beyond pathological to the point of being childish, when you consider the oppressive security regimes that the DEA imposes in those rare cases where it allows a psychoactive substance to be studied. On those blue-moon occasions, the superstitiously fretful DEA requires such burdensome security protocols (including bank vaults and security guards) that you'd think the substances being studied were highly enriched uranium, not a plant or fungi grown by Mother Nature herself.