b>Posted in response to
How to Create a Sense of Purpose According to Science
, by Cortland Dahl in Medium, April 2021.
It's really a hoot to have scientists tell us how to achieve a sense of purpose in the age of the Drug War. The scientist is in the position of a doctor who is permitted to recommend anything whatsoever for a headache except an aspirin. Mother Nature's psychoactive medicines are custom-made to give us a sense of purpose when used advisedly. The natural substance soma produced such powerful insights of this kind that it spawned the entire Vedic religion. Opium increased Benjamin Franklin's sense of purpose and coca wine inspired the stories of such authors as HG Wells, Jules Verne and Alexandre Dumas. Plato, Aristotle and Cicero were philosophically inspired by the psychedelic-fueled Eleusinian Mysteries. Yet America, a supposedly scientific country (and one based on Natural Law at that) chose to start demonizing psychoactive plant medicines in 1914 and essentially forced the rest of the world to follow suit through economic blackmail. We even claimed the right to rush overseas and burn the plants of which racist stateside politicians disapproved, without, of course, bothering to ask the mere citizens of those countries how they felt about the matter.
The result: when our authors write about personal improvement, they ignore the therapeutic 64,000-pound gorilla in the room: viz plant medicine, leaving us with sterile theoretical adjurations from the world of science to eat these foods, sleep at these hours, consume these sorts of vegetables, and think all kinds of warm and fuzzy thoughts, under the demonstrably false assumption that we can think our way to psychological health, let alone to full-on self-actualization in life. But until we stop demonizing plant medicines and start figuring out how to use them wisely to achieve our psychological goals, I for one do not want to listen to science's latest theoretical advice about finding purpose in life. I've read countless articles of that kind before, and I'm still depressed as ever at age 62. The only difference is I'm not only depressed now, but I'm hooked on Big Pharma's tranquilizing antidepressants and will have to take them for the rest of my life, despite the fact that, unlike plant medicine, they were never created with my self-actualization in mind. Meanwhile, if Americans seek a purpose in life, let them start fighting the long-overdue battle to end America's disgracefully anti-scientific Drug War, which is also anti-minority, anti-patient, and the establishment of a religion: namely that of Christian Science, which tells us that we have some moral duty to say no to the life-enhancing plant medicines that grow at our very feet.
Author's Follow-up: December 2, 2022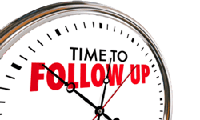 Obama launched a BRAIN initiative while continuing to support the outlawing of almost all psychoactive substances that provide insight into the nature of consciousness and how the brain actually works.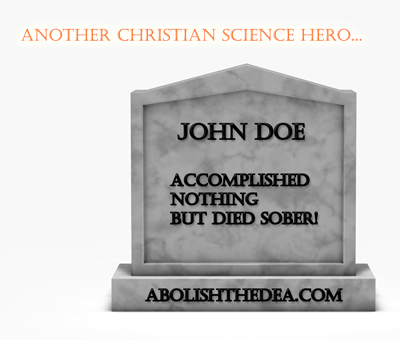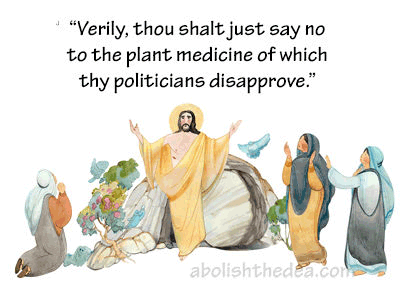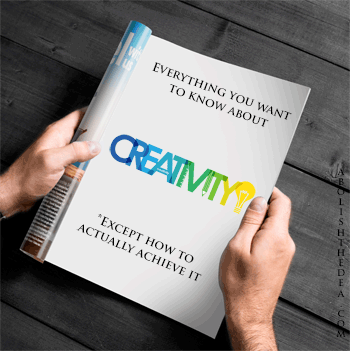 More Essays Here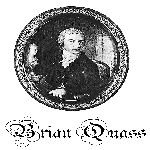 You have been reading essays by the Drug War Philosopher, Brian Quass, at
abolishthedea.com
. Brian has written for Sociodelic and is the author of
The Drug War Comic Book
, which contains 150 political cartoons illustrating some of the seemingly endless problems with the war on drugs -- many of which only Brian seems to have noticed, by the way, judging by the recycled pieties that pass for analysis these days when it comes to "drugs." That's not surprising, considering the fact that the category of "drugs" is a political category, not a medical or scientific one.
A "drug," as the world defines the term today, is "a substance that has no good uses for anyone, ever, at any time, under any circumstances" -- and, of course, there are no substances of that kind: even cyanide and the deadly botox toxin have positive uses: a war on drugs is therefore unscientific at heart, to the point that it truly qualifies as a superstition, one in which we turn inanimate substances into boogie-men and scapegoats for all our social problems.
The Drug War is, in fact, the philosophical problem par excellence of our time, premised as it is on a raft of faulty assumptions (notwithstanding the fact that most philosophers today pretend as if the drug war does not exist). It is a war against the poor, against minorities, against religion, against science, against the elderly, against the depressed, against those in pain, against children in hospice care, and against philosophy itself. It outlaws substances that have inspired entire religions, Nazi fies the English language and militarizes police forces nationwide. In short, it causes all of the problems that it purports to solve, and then some, meanwhile violating the Natural Law upon which Thomas Jefferson founded America.
If you believe in freedom and democracy, in America and around the world, please stay tuned for more philosophically oriented broadsides against the outrageous war on godsend medicines, AKA the war on drugs.
Site and its contents copyright 2023, by Brian B. Quass, the drug war philosopher at
abolishthedea.com
. For more information, contact Brian at quass@quass.com.