he interests of capitalism dictate what politician-led Americans can think about substances. Psychoactive plant medicine need merely cause a problem for one demented youth and our politicians easily convince us that the substance must be eradicated from the face of the earth. Meanwhile if a Big Pharma antidepressant causes weight gain and suicide, we dismiss these as "bad reactions," essentially blaming the victim for their oddball reaction to the drugs, while insisting that the substance in question is a godsend for the vast majority of the depressed.
This is not surprising since unfettered capitalism has a history of keeping problems from being solved if the solution would negatively affect stock values. That's why we have no quick answers to heart problems and cancer, since the obvious solution would be for Americans to cut back drastically on red meat, and yet the American Heart Association is supported by precisely those industries that would lose out given such a truly scientific approach. Therefore such agencies are like OJ Simpson vowing to spend his life searching for the guy who killed his wife. If they truly wanted to find the reason for heart disease (etc.) in America, they'd take one long look in the mirror.
We'd have been driving electrically powered cars a century ago, using free electricity and cell phones too, except that capitalism quashed these inventions because they merely empowered humanity rather than the all-important stockholder.
More Essays Here

essays about
CAPITALISM AND THE DRUG WAR
Capitalism and the Drug War Pt 2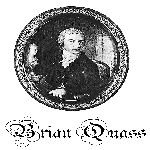 You have been reading essays by the Drug War Philosopher, Brian Quass, at
abolishthedea.com
. Brian has written for Sociodelic and is the author of
The Drug War Comic Book
, which contains 150 political cartoons illustrating some of the seemingly endless problems with the war on drugs -- many of which only Brian seems to have noticed, by the way, judging by the recycled pieties that pass for analysis these days when it comes to "drugs." That's not surprising, considering the fact that the category of "drugs" is a political category, not a medical or scientific one.
A "drug," as the world defines the term today, is "a substance that has no good uses for anyone, ever, at any time, under any circumstances" -- and, of course, there are no substances of that kind: even cyanide and the deadly botox toxin have positive uses: a war on drugs is therefore unscientific at heart, to the point that it truly qualifies as a superstition, one in which we turn inanimate substances into boogie-men and scapegoats for all our social problems.
The Drug War is, in fact, the philosophical problem par excellence of our time, premised as it is on a raft of faulty assumptions (notwithstanding the fact that most philosophers today pretend as if the drug war does not exist). It is a war against the poor, against minorities, against religion, against science, against the elderly, against the depressed, against those in pain, against children in hospice care, and against philosophy itself. It outlaws substances that have inspired entire religions, Nazi fies the English language and militarizes police forces nationwide. In short, it causes all of the problems that it purports to solve, and then some, meanwhile violating the Natural Law upon which Thomas Jefferson founded America.
If you believe in freedom and democracy, in America and around the world, please stay tuned for more philosophically oriented broadsides against the outrageous war on godsend medicines, AKA the war on drugs.
Site and its contents copyright 2023, by Brian B. Quass, the drug war philosopher at
abolishthedea.com
. For more information, contact Brian at quass@quass.com.