he Drug War is bullet-riddled Greek Tragedy American-Style. It's a way of looking at the world that allows us to enforce puritan piety that passe religion can no longer command. It's a way to keep the Wild West going so that gun addicts can satisfy their need to play the good guy. Custom-made violence. It is the new Tenth Commandment. Thou shalt not use dope. It is Mary Baker Eddy on steroids. It is responsible for the OXY epidemic because it not only outlaws far safer substances but it criminalizes their mere research. It makes a boogieman and a scapegoat out of psychoactive substances (dumping them all into the discreditable category of "drugs") in a way that no other civilization has ever done.
But substances are not the problem. Ignorance is a problem. A violence-creating black market is a problem. The outlawing of safe psychoactive plant medicine is a problem. The ideological war on human consciousness, THAT is a problem. Politicians telling us how and how much we can think, that is a problem. Politicians violating natural law by presuming to tell us what plants and fungi we can access, that is a problem. DEA thugs who poison Americans with paraquat and stomp onto Monticello to steal Thomas Jefferson's poppy plants, that is a problem. A tyrannical government that denies gainful employment to Americans who dare to access time-honored plant medicine, THAT is a problem.
Then, because America has such a jaundiced attitude toward psychoactive substances, we arrogantly go around the world burning plants, as if we've discovered some great truth about evil substances, never realizing that our willfully purblind attitude toward "drugs" is the problem, not amoral substances themselves. Our hatred of education. Our hatred of plant medicine. Our need for a scapegoat for social ills. Our idiotic view of psychology that takes exactly zero account of the human being's unquenchable desire for self-transcendence and "seeing beyond the veil." These are all problems, not "drugs".
If we must have a Drug War, let's crack down on alcohol use and remove anyone from the work force should their urine reveal any traces of booze whatsoever. Let's then remove them from the voting rolls. Then let's make America great again by executing alcohol distributors, thereby hoisting the beer-swilling Drug Warriors by their own petard.
Of course I'm speaking rhetorically here. I do not personally want to punish ANYONE based on the substances that they choose to consume -- I only wish I could say the same of the vast majority of Americans, bamboozled as they are by daily doses of ideological Drug War propaganda on TV and in movies (as in cop shows, for instance, in which cocaine is only ever used by the scummiest of board-certified scumbags, lest the viewer get any crazy ideas about personally profiting from the psychoactive powers of Mother Nature's plant medicines).
More Essays Here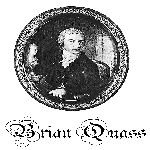 You have been reading essays by the Drug War Philosopher, Brian Quass, at
abolishthedea.com
. Brian has written for Sociodelic and is the author of
The Drug War Comic Book
, which contains 150 political cartoons illustrating some of the seemingly endless problems with the war on drugs -- many of which only Brian seems to have noticed, by the way, judging by the recycled pieties that pass for analysis these days when it comes to "drugs." That's not surprising, considering the fact that the category of "drugs" is a political category, not a medical or scientific one.
A "drug," as the world defines the term today, is "a substance that has no good uses for anyone, ever, at any time, under any circumstances" -- and, of course, there are no substances of that kind: even cyanide and the deadly botox toxin have positive uses: a war on drugs is therefore unscientific at heart, to the point that it truly qualifies as a superstition, one in which we turn inanimate substances into boogie-men and scapegoats for all our social problems.
The Drug War is, in fact, the philosophical problem par excellence of our time, premised as it is on a raft of faulty assumptions (notwithstanding the fact that most philosophers today pretend as if the drug war does not exist). It is a war against the poor, against minorities, against religion, against science, against the elderly, against the depressed, against those in pain, against children in hospice care, and against philosophy itself. It outlaws substances that have inspired entire religions, Nazi fies the English language and militarizes police forces nationwide. In short, it causes all of the problems that it purports to solve, and then some, meanwhile violating the Natural Law upon which Thomas Jefferson founded America.
If you believe in freedom and democracy, in America and around the world, please stay tuned for more philosophically oriented broadsides against the outrageous war on godsend medicines, AKA the war on drugs.
Site and its contents copyright 2023, by Brian B. Quass, the drug war philosopher at
abolishthedea.com
. For more information, contact Brian at quass@quass.com.