ne of my shortcomings as a writer (of which there are no doubt several -- shortcomings, I mean, not writers) is that I assume that my readers know what the hell I'm talking about when they actually do not. (Sound familiar, eh?) I thus have a tendency to write tersely in cases where a little prolixity "would go a long way." (Go on, admit it, you were probably thinking the exact same thing, weren't you? Go on, admit it: I won't bite.) With this in mind, I would like to devote this entire post to the task of "fleshing out" what I mean when I say that America's Drug War represents a kind of Christian Science Sharia, a claim that I have made "in passing" in at least 10 of my essays over the last year, assuming that I was merely stating a commonplace. Then a friend of mine politely pointed out that some of my readers (bless their hearts) might not be familiar with the theology of Christian Science, nay, with the politically charged connotations of the word "sharia" itself as disapprovingly used in the 21st century by a xenophobic westerner, and that it was therefore incumbent upon me to dilate on the topic at hand. This task of clarification is crucial because once one understands the statement that "the Drug War is Christian Science Sharia," the evil of that quixotic project becomes apparent and we develop an immunity to the Drug War propaganda that pervades western society (not least in the form of cop shows and Drug War movies, both of which promote the once uniquely western view that mother nature's psychoactive plant medicines can bring about nothing but madness and despair).
ID0128
Briefly then (though hopefully not TERSELY): Christian Science is a religion founded in late 19-century America by Mary Baker (aka Mary Baker Eddy), after she discovered what she took to be the overlooked healing power of spirituality as demonstrated by Jesus in the New Testament. She came to believe that physical suffering was an illusion, that it had no objective reality, and that it could be overcome by faith alone. Given this theological understanding, many modern-day Christian Scientists, like Baker herself before them, feel no need for modern medical intervention and seek to do without its various ministrations (including prescriptions and surgery), sometimes with tragic results. In the 1980s, there were sensational media coverage of Christian Scientists being charged with child abuse for allowing their children to die of treatable diseases due to the parents' religious conviction that healing could come about through spiritual intervention alone.
Having thus briefly explained the Christian Science outlook on suffering, I trust that it is apparent why the Drug War represents the enforcement of Christian Science precepts. The Drug War says, in effect, that human beings should not -- and indeed must not - use mother nature's medicines in an attempt to improve their psychological well-being. And this is simply the doctrine of Mary Baker herself with respect to illness. It is a religious belief, especially as many Drug Warriors suggest that the proper alternative to so-called drug use is to believe in the Christian God. Yet there is no scientific reason why we should not use the plants and fungi of our choice to improve and expand our cognition - there is only the conviction of the Drug Warrior that it is somehow wrong to do so. Of course Drug Warriors who hold this faith have to work constantly to censor history in order to delete counterfactual examples from the past. Thus we read of Benjamin Franklin's creativity, without being told how he used opium to stimulate that creativity. Thus we read of Sigmund Freud's highly prolific work output, without being told how cocaine helped drive him to produce that output. Thus we learn of Francis Crick's great insight in discovering the DNA helix, without being told how he used psychedelics to help achieve that insight.
ID0153
Having thus established that the Drug War represents the enforcement of Christian Science precepts, I will end my efforts at clarification by defining the word "sharia," both in its original sense and in its generally pejorative modern connotation in the west. We read in Webster's, that "sharia" is:
"the body of formally established sacred law... governing in theory not only religious matters but regulating as well political, economic, civil, criminal, ethical, social, and domestic affairs in Muslim countries."
More to our purpose here is the modern connotation of the word "sharia" in the west, where it conjures images of a police state run by a theocratic government that will brook no dissent and whose laws are emphatically harsh. By thus describing the Drug War as "sharia" in this pejorative sense, I hope to highlight the highly ironic fact that Americans (and westerners in general) are living under the very form of government that they purport to detest, a kind of western "sharia," that subjects them to a set of ultra harsh drug laws (which may soon include the death penalty in America) should they choose to violate the Christian Science doctrine of renouncing Mother Nature's psychoactive plant medicines when it comes to treating "what ails them," psychologically speaking.
QED, the Drug War is really the enforcement of Christian Science Sharia.
If enough freedom-loving westerners can "get their head around this fact," then we can stop impotently shouting "End the Drug War!" to deaf politicians around the globe and start shouting "End Christian Science Sharia!" instead, thereby revealing to the Drug Warriors that we're "onto" their game and that we know all about their stealth efforts to make us conform with the anti-scientific moral philosophy of the religious reformer popularly known as Mary Baker Eddy.
CHRISTIANSCIENCE
ID0154
More Essays Here

essays about
DRUG WAR AS CHRISTIAN SCIENCE
Drug War Uber Alles
Boycott Singapore
Drug Testing and the Christian Science Inquisition
Why DARE should stop telling kids to say no
America's Imperialist Christian Science War on Drugs
The Christian Science SWAT Teams of the Drug War
Libertarians as Closet Christian Scientists
American Sharia
What You Can Do
What You Can Do
The Drug War = Christian Science
PROTEST DRUG TESTING NOW!
The Drug War as Religion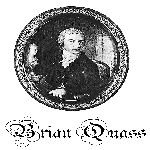 You have been reading essays by the Drug War Philosopher, Brian Quass, at
abolishthedea.com
. Brian has written for Sociodelic and is the author of
The Drug War Comic Book
, which contains 150 political cartoons illustrating some of the seemingly endless problems with the war on drugs -- many of which only Brian seems to have noticed, by the way, judging by the recycled pieties that pass for analysis these days when it comes to "drugs." That's not surprising, considering the fact that the category of "drugs" is a political category, not a medical or scientific one.
A "drug," as the world defines the term today, is "a substance that has no good uses for anyone, ever, at any time, under any circumstances" -- and, of course, there are no substances of that kind: even cyanide and the deadly botox toxin have positive uses: a war on drugs is therefore unscientific at heart, to the point that it truly qualifies as a superstition, one in which we turn inanimate substances into boogie-men and scapegoats for all our social problems.
The Drug War is, in fact, the philosophical problem par excellence of our time, premised as it is on a raft of faulty assumptions (notwithstanding the fact that most philosophers today pretend as if the drug war does not exist). It is a war against the poor, against minorities, against religion, against science, against the elderly, against the depressed, against those in pain, against children in hospice care, and against philosophy itself. It outlaws substances that have inspired entire religions, Nazi fies the English language and militarizes police forces nationwide. In short, it causes all of the problems that it purports to solve, and then some, meanwhile violating the Natural Law upon which Thomas Jefferson founded America.
If you believe in freedom and democracy, in America and around the world, please stay tuned for more philosophically oriented broadsides against the outrageous war on godsend medicines, AKA the war on drugs.
Site and its contents copyright 2023, by Brian B. Quass, the drug war philosopher at
abolishthedea.com
. For more information, contact Brian at quass@quass.com.