i>The following comment was posted in response to "
Psychedelic therapy: The patients paying $2k to get high with their doctor
," by Jesse Noakes, which appeared on April 22nd, 2019 on news.com.au.
Though the Drug War originally targeted hippies, its real victims have been patients suffering from PTSD, depression, and anxiety. It is this latter demographic that the Drug War has truly cracked down on by denying us access to powerful and time-honored psychoactive medicines over the last 50 years, thereby forcing us to rely on SSRIs: drugs that create dependence, turn the depressed person into a lifelong patient, and eventually produce the drowsy symptoms of anhedonia in the lifelong user. At best, such legal treatments make one's life bearable, while drugs like LSD and psilocybin open the mind to possibilities to which a depressed mind was otherwise blinded. The latter drugs, in fact, empower the patient to start unlearning the damaging lessons of negative experiences by giving the user new ways to look at life: in other words such drugs are the Holy Grail of psychopharmacology - or they would be if skeptical materialists and political fascists would merely allow these drugs to do their job.
A good step in this direction would be for purportedly "free" peoples to reject the notion that government can rightfully declare Mother Nature's output to be "illegal" (a usurpation of power that Terence Mckenna rightfully called "ridiculous and obnoxious"). For if I have a birthright to anything in a free country, it is surely to the bounty of Mother Nature that grows freely at my feet. This is especially so in America, where the very constitution grants me "the pursuit of happiness" and then the government turns around and criminalizes precisely those plants that could bring me that very happiness. Moreover, the right to Mother Nature's bounty is specifically guaranteed in America by the Natural Law upon which Jefferson founded our country. That's why Jefferson was rolling in his grave when the DEA stomped onto Monticello in 1987 and confiscated the garden-loving president's poppy plants.
Imagine, that the one country founded upon Natural Law should end up being the one country to set the pernicious example of criminalizing plants around the entire globe!
More Essays Here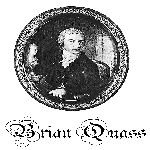 You have been reading essays by the Drug War Philosopher, Brian Quass, at
abolishthedea.com
. Brian has written for Sociodelic and is the author of
The Drug War Comic Book
, which contains 150 political cartoons illustrating some of the seemingly endless problems with the war on drugs -- many of which only Brian seems to have noticed, by the way, judging by the recycled pieties that pass for analysis these days when it comes to "drugs." That's not surprising, considering the fact that the category of "drugs" is a political category, not a medical or scientific one.
A "drug," as the world defines the term today, is "a substance that has no good uses for anyone, ever, at any time, under any circumstances" -- and, of course, there are no substances of that kind: even cyanide and the deadly botox toxin have positive uses: a war on drugs is therefore unscientific at heart, to the point that it truly qualifies as a superstition, one in which we turn inanimate substances into boogie-men and scapegoats for all our social problems.
The Drug War is, in fact, the philosophical problem par excellence of our time, premised as it is on a raft of faulty assumptions (notwithstanding the fact that most philosophers today pretend as if the drug war does not exist). It is a war against the poor, against minorities, against religion, against science, against the elderly, against the depressed, against those in pain, against children in hospice care, and against philosophy itself. It outlaws substances that have inspired entire religions, Nazi fies the English language and militarizes police forces nationwide. In short, it causes all of the problems that it purports to solve, and then some, meanwhile violating the Natural Law upon which Thomas Jefferson founded America.
If you believe in freedom and democracy, in America and around the world, please stay tuned for more philosophically oriented broadsides against the outrageous war on godsend medicines, AKA the war on drugs.
Site and its contents copyright 2023, by Brian B. Quass, the drug war philosopher at
abolishthedea.com
. For more information, contact Brian at quass@quass.com.